TFG Marine provides competitively priced, premium marine fuels at key hubs along the world's major shipping routes. The group was formed in 2020 as an alliance between Trafigura, a leading global commodities trader, and two of the foremost shipping companies in the world, Frontline and Golden Ocean.
Who we are


TFG Marine is building one of the world's largest physical bunkering procurement and trading platforms, providing competitively priced, premium marine fuels along key shipping routes and bunkering hubs around the world. As part of our mission, we adopt cutting-edge technologies that enhance transparency and spur carbon-reduction in our industry.
Our stakeholders


TFG Marine leverages the strengths of our three founding companies. They are market leaders with solid credentials in their respective fields and complementary strengths in global commodity trading and shipping. Their wealth of experience across the shipping and marine fuel supply markets underpins our approach and enriches our decision-making.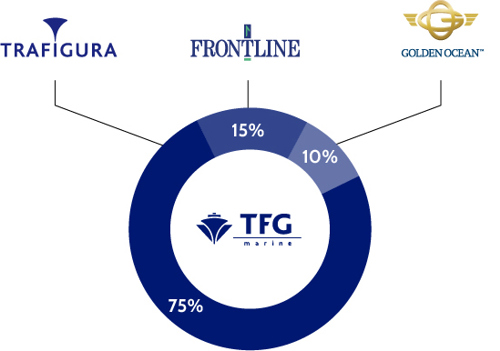 *As at 23 August 2021, the TFG Marine group comprises TFG Marine BV (Netherlands), TFG Marine Inc. (US) and Heron Marine (South Africa).